Home
Main content starts here, tab to start navigating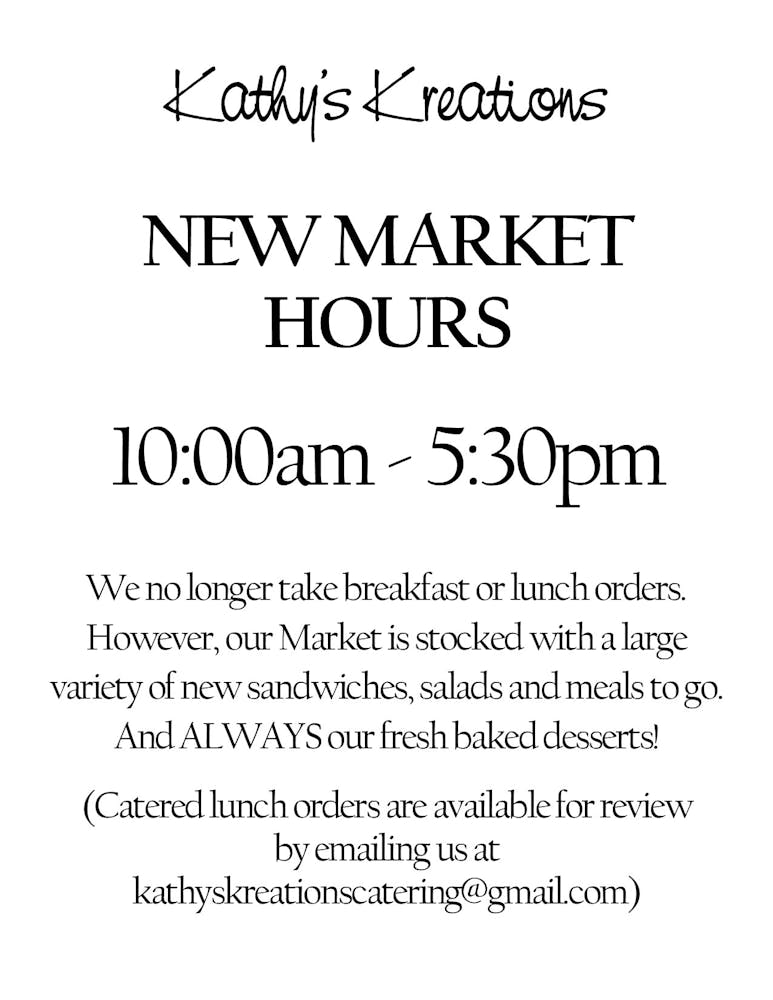 Slide 1 of 2
Slide 2 of 2
About us
Welcome to Kathy's Kreations! Kreating JOY through the experience of food since 1993.
The Market
The Market is your one-stop-shop for everything that Kathy's kreates.
Opening at 10:00am, the Market provides a variety of freshly made, grab and go green salads choices, our famous chicken salad, pimento cheese, egg salad, pasta salad, potato. A variety of sandwiches and wraps are also available. Don't forget to check out the bakery case with bars. brownies, cake slices and cheesecakes for every sweet tooth.
The Market stays open until 5:30pm which gives you the opportunity to run in after work or errands and pick up a Meal-To-Go. Choices include Chicken Enchiladas, Baked Spaghetti, Lasagna and Chicken Pot Pie. Seasonal sides dishes make the meal complete. For a last-minute celebration, Kathy's has whole cakes and pies.
We proudly serve Boar's Heads meats and cheeses on our sandwiches and make it available to you by the freshly sliced pound.
Learn More